This past summer I met a girl who talked endlessly about how much she enjoyed using Twitter. Despite the anxiety I experience after realizing how much time I wasted on social media sites, I caved and got Twitter anyway. It was summer. I was bored. I wanted to feel like part of the 21st century.
Unfortunately, getting Twitter didn't completely satisfy my boredom or make me feel more modern. Instead, it made me feel very old-fashioned and out of the loop. People frequently tweeted things about NEW movies, NEW music, NEW fashions, and NEW words. As my eyes flitted back and forth across the glowing computer screen, I realized that I know very little about trends. It was depressing.
Luckily, things have begun to improve in my Twitter life. This week I've been reading a lot of tweets like these:
"Saw Les Miserables today.
#cantstopSINGING
"
"OMGoodness. Les Miserables is SO long
#yawn
"
"So pumped to go see Les Miserables with Grandma today!
#woohoo
"
Although they were talking about a movie which I haven't seen, I can still relate! *Cue the Hallelujah Chorus* Why can I relate? Because I have listened to the Focus on the Family Radio Theatre audiodrama of Les Miserables on CD!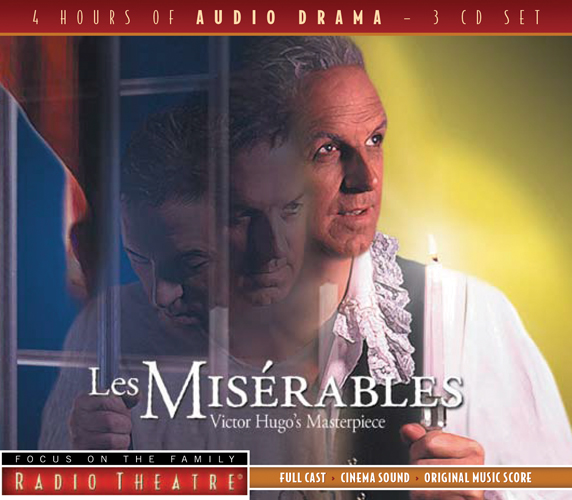 The main characters in Les Miserables are Jean Valjean (peasant/ex-convict), Fantine, Cosette (Fantine's orphaned daughter), and Marius (a patriotic French college student).
Jean Valjean is hunted by policemen for breaking parole after spending 19 years in prison for stealing a loaf of bread. Eventually, he finds refuge in the home of a kind bishop. The bishop basically tells Valjean, "What ever is mine is yours." Thus, Jean Valjean steals the bishop's expensive silverware. The police arrest Valjean, but the bishop tells the police that he gave Valjean the silverware as a gift. After being released, Valjean promises the bishop that he will change his ways.
Valjean creates a new identity and moves to a new town. He invents a unique manufacturing process that makes the town rich. He also becomes the town mayor... a far cry from being a hunted ex-convict!
Meanwhile, Fantine falls in love with a man who gets her pregnant. The man leaves and she is left to care for the child by herself. Fantine knows that she must support her child. She also knows that no one will hire her if they discover that she has an illegitimate child. So, Fantine sends her daughter Cosette to live with another family. The family charges Fantine an outrageously huge amount of money to take care of Cosette, yet they abuse the child and make her work in their inn.
Fast forward >> People find out about Fantine's child and tell the boss >> Fantine loses her job >> Fantine turns to illegal activities to make money to support her child >> Fantine dies >> Valjean rescues and adopts Fantine's child >> LISTEN TO FOCUS ON THE FAMILY'S CA'S AND YOU WILL HEAR THE REST OF THE STORY!
Overall, Les Miserables is A-M-A-Z-I-N-G. It is a story filled with redemption, redemption, and more redemption. Focus on the Family Radio Theatre did a great job bringing Victor Hugo's story to life. The actors were phenomenal. I got caught up in the story and couldn't stop listening to the Cd's.
Les Miserables is a super cool classic that everyone should read/listen to/watch at least once in their life. I'd love to share more, but I don't want to spoil the many surprises that come with the end of the production. Thus, I leave you with this piece of advice:
Cave into peer pressure and listen to Focus on the Family's production of Les Miserables.
*These CD's were given to me to review by Tyndale House Publishers. All opinions are my own.*